Rodale Institute, in partnership with a team of twelve universities, farming NGOs, and consulting firms, is working with vegetable farmers and farmers markets in the Southern Piedmont to promote the adoption of climate-smart farming practices and expand markets for the sale of climate-smart commodities.
The project, entitled "Quantifying the Potential to Reduce Greenhouse Gas Emissions and Increase Carbon Sequestration by Growing and Marketing Climate-Smart Commodities in the Southern Piedmont" is part of an historic multimillion-dollar investment by the USDA.
PROJECT SCOPE
We are partnering with Southern Piedmont organic and conventional diverse vegetable farmers through an enhanced incentives program.
Farmers will be asked to add cover crops to their vegetable rotation. We will monitor greenhouse gas emissions, soil health benefits, economic impacts, and social barriers to the adoption of using cover crops versus not using cover crops on their fields. This information will provide farmers with the data needed to capitalize on carbon market programs and understand how they can better steward their lands and communities while providing recommendations to the USDA for ways to economically and socially support farmers' transitions to climate-smart agriculture.
Through partnerships with Southern Piedmont farmers markets, we will expand markets for climate-smart commodities in the Southeast. We have designed a marketing campaign that investigates the best strategies for educating consumers about the value-added benefits of purchasing climate-smart commodities. The information gained from this work will help farmers get the value of their work and provide the USDA with recommendations on ways to support climate-smart markets through consumer education.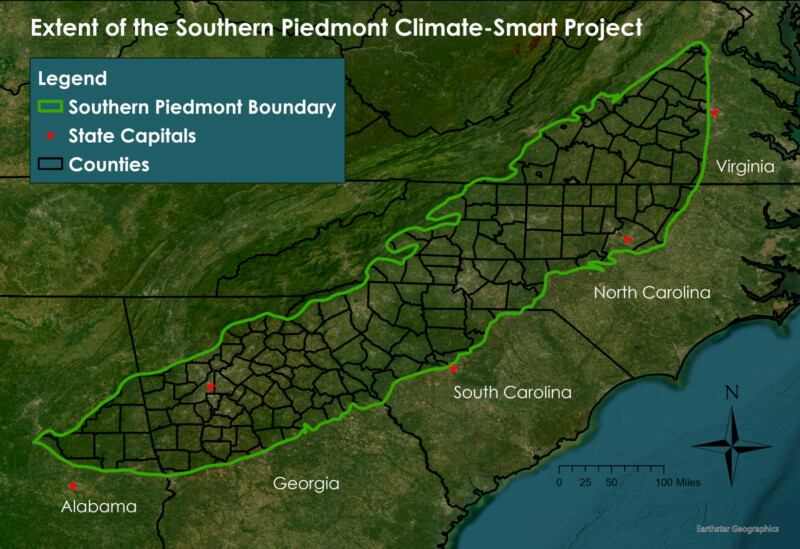 OPPORTUNITY FOR FARMERS & FARMERS MARKETS IN THE SOUTHERN PIEDMONT
We are looking for diverse vegetable farmers and farmers markets in the Southern Piedmont region who are willing to commit to partnering with us on this historic project. Financial incentives will be provided to farmers and farmers markets who are selected to participate in the program.
Farmer Partners Will:
Follow the planting and cover cropping rotation provided
Commit to provide data via phone application
Participate in project training events
Allow project team scheduled access to enrolled acres for data collection
NOTE: Acreage may not be enrolled in other NRCS cost-share programs for same practices.
Farmers Market Managers Will:
Participate in filling out an application that provides analytics and graphics related to market metrics
Assist marketing team with streamlining participating farmer data collection, consumer surveys, and outreach at market
Allow project team scheduled access to the farmer's market for consumer surveys, data collection, and outreach
ENHANCED INCENTIVES PROGRAM
Cash Incentives for Farmers
Farmers participating in the program are eligible for cash incentives for participating in the program, as outlined below:
| | | |
| --- | --- | --- |
| Per Acreage Participation | $1,500/acre/year | 2-10 acres dedicated to the project |
| Completing various program surveys and requirements | Up to $200/year | Filled out and data given to the project team each year |
| Input Reimbursement | $220/acre/year up to $1,100/year | Reimbursement for inputs purchased for the acreage dedicated to this project |
| Participation in Barriers to Change Focus Groups | $100/year | Annual focus groups discussing your barriers to adopting climate-smart agricultural practices |
Non-Cash Incentives for Farmers
| | | |
| --- | --- | --- |
| Cash Crop Seed | Up to 10 acres/year | Seed provided for up to 10 acres dedicated to this project |
| Cover Crop Seed | Up to 5 acres/year | Seed provided for up to 5 acres dedicated to this project |
| Technical Assistance | Free | Technical assistance is provided for free for assistance needed on enrolled acreage |
| Equipment | Free | A no-till seed drill, roller crimper, and no-till transplanter will be provided, if needed, for the enrolled acreage |
Cash Incentives for Farmers Markets
| | | |
| --- | --- | --- |
| Market Manager Assistance | $500/year | Assistance helping the climate-smart team with consumer surveys, streamlining market farmer Farm2Facts surveys, and overall market research outreach at market |
| Completing COMET Planner | $50/year | Collection of data, report completed and submitted to the project team each year |
| Completing Farm2Facts | $50/year | Market managers and market farmers fill out annually online |
Southern Piedmont Climate-Smart Farmer Recruitment Informational Webinar
Originally aired May 23, 2023
Southern Piedmont Climate-Smart Farmers Market Recruitment Informational Webinar
Originally aired May 23, 2023